The Orchestra of Accordion Sundgau
---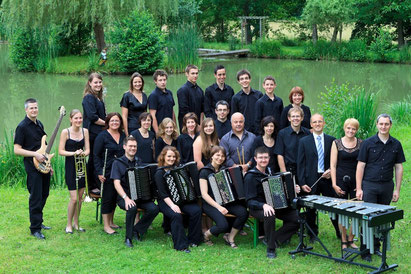 The association « Jeunesse Accordéon du Sundgau » was created in 1967 and is located in Altkirch. It gave birth to the "Orchestre d'Accordéon du Sundgau" composed by amateur musicians playing accordion, transverse flute, trombone, trumpet, guitar, bass guitar and drums. The orchestra is conducted by Philippe REY for 30 years.
The originality of the repertoire is based on classics, jazz, entertainment but also on tributes to French songs. Different styles of music pieces or arranged for the orchestra complete this eclectic repertoire (Vivaldi's Winter, New York Tango with participation of Richard Galliano, Amsterdam from Jacques Brel and Tango pour pour Claude).
This program enables the orchestra to share concerts with men's or mixed choirs.
In the constant aim of improving, the orchestra takes part to master class and to international competition (Castelfidardo in Italy, Pula in Croatia).
The orchestra is regularly invited for concerts in France (Paris, Andrézieux-Bouthéon, Strasbourg, Givet, Doué-la-Fontaine, Illkirch-Graffenstaden for the festival «Le Printemps des Bretelles») and abroad (Russia, Croatia, Germany, Italy, Holland).
To share his passion for music with a large number of music lovers, the orchestra recorded 3 CDs, the first one on 1995 simply called JAS, the second one in 2001 called "Mosaïque" and the latest on in 2012 called "Voyages" as it is musical trip.
"Enthusiasm, passion, friendship … that is the motto of the "Orchestre d'Accordeon du Sundgau ".
---
---